Ten Tips on Getting Hired at a Salon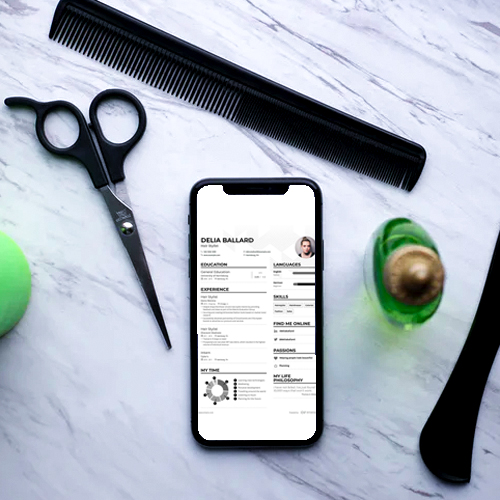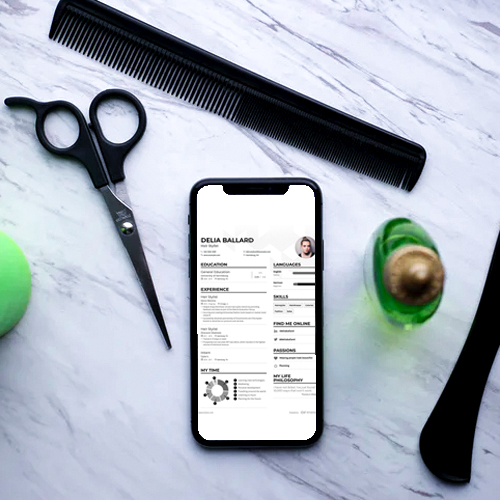 Getting hired as a professional stylist is very exciting and also a lot of hard work. Whether you just graduated or not, it is your passion that will make you a success. Here are ten tips to get you hired and become a successful stylist! Here is a fun fact: the world is always in need of a positive and passionate stylist
Write a Winning Resume
Writing a winning resume is the most important thing to get hired as a stylist. It would be best if you had an impressive resume, emphasizing your education and professional background. You should write your name, contact information, and link to your website (more on that later). Don't forget to check your details and phone number for errors or mistakes. It is important to create an objective statement: this is a small part that includes your skills and professional goals and highlights how your work can affect the company. For example: "Energetic color specialist who has a deep passion for obtaining the highest level of customer service".
There are many resume templates and builders you can find online, like this one: https://resumegenius.com/resume-samples/hair-stylist-resume-example
Just remember that hiring managers are busy and you want to make your resume professional, succinct, and stand out. One way to do this is to include a head shot of yourself or link to an online portfolio of your work that reflects your professional life.
Don't underestimate what an online portfolio can do for your career. Instagram, for example, has literally made some stylists famous (250k+ followers); many salon business coaches show how Instagram can lead to more clients in your chair. You will need it to show prospective clients and employers what you can do.
It is important to differentiate your personal life from your professional portfolio and here are a few tips on how to do that:
Register a domain name with your name and build a website
Create a professional Instagram account as a business to promote your brand
Create a Facebook Page as a business to promote your professional brand
It's essential to have work samples available whenever you are going for an interview or to share with clients. If you're submitting applications via a platform, adding the web address of your website or Instagram profile to your signature can direct potential employers toward the work samples you have available.
Think of your online portfolio as something that will constantly grow with you during your career, it will help you communicate better with existing clients, and help you draw more clients to your chair. Don't forget this very important tip, you want your clients to know how to find you when/if you move locations, so branding yourself online with a website or Instagram for business account will help you do that.
For more information, here is an article about "Why Stylists Need Instagram Business Accounts"
Establishing your brand is very important; it will set the foundation for your success. Once you have your social media business accounts setup, here are a few tips to start building your brand:
Focus on one social platform to start (Instagram or Facebook)
Optimize your profile (this is how people connect with you)
Establish a content calendar (what to post and how often, etc.)
Curate content for quality not quantity
Share your knowledge (the more you give, the more you receive)
Be consistent, stay focused on the purpose
If you are technically savvy, you can register your own domain name and build a website for your brand. This offers a lot more flexibility than Instagram because you can create links to resumes and create portfolio sections on your website. It is also useful for Search Engines to help others find your website online when/if they are looking for a stylist in their area.
Once you have a website setup, you may consider some automation marketing tools. Here is an article that explains "How to Automatically Publish from WordPress to Instagram"
A website is a platform that renders a 24-hour advert for the products and services you offer.
A well-designed website will help create a great first impression for visitors, and it can lead to an increase in opportunities. Having a registered website that showcases or representing your brand is very important because you can easily use it to showcase the outcome of your work and the comments given by people about the service's outcome. Publishing testimonials on your website is probably one of the biggest benefits compared to only having a professional Instagram account.
Practice Interview questions
The interview is the right time to shine and show employers that you are candidates for the job. If you could remember a saying, "practice makes perfect" is very important for the interview process. It takes lots of skill and practice to answer interview questions correctly. It is also good to ask them questions too and don't forget that an interview is about getting to know the company, as it is the company getting to know you. Most salon managers know that you will be attracting clients that are most like you, so let your personality shine, and stay positive.
An ideal approach to figure out how to respond to interview questions is to rehearse with your friend. At first, this will appear to be wired. Notwithstanding, the more you practice it, the better. Get your friend to think of testing questions. Make it a game; try to get them to come up with questions that will stump you. You will be amazed at what your friends can come up with. The more you practice the question, the simpler the entire interview will appear. If you study the job details and requirements, practice with your friends on zoom, you'll be amazed at how easy you'll be able to answer interview questions.
Show optimism and personality.
Optimism is a concept found in every culture in the world, a word used by almost every human being, despite which no two people understand it the same way. True optimism is deeply rooted in resourcefulness and can't be experienced without a concrete element of common sense. Let your online brand display and showcase your optimism. Many people are in search of things that can develop their personality and personal growth. If you are the same as most people, though, you must be more interested in strategies and tips for personal self-help development, which can help you obtain your objectives, boost your confidence, and encourage your personality.
Consider renting a chair in an existing salon
Working in an expensive salon has its benefits, and working in a smaller salon is a way to gain expertise and steady customers. But, sometimes you can rent a chair at a salon. This allows you to work with clients.
The most important Personal features for a successful career include communication skills and understanding that you (the stylist) your grooming, and the work that you do serves as your calling cards. You are always on display; therefore, it is crucial always to look your best. Confidence and the ability to sell yourself are key to selling services to others. No one is going to feel comfortable putting their beauty in the hands of someone who looks like you just rolled out of bed. To be a successful stylist, you must be willing to invest in yourselves and constantly improve your areas of expertise as a stylist.
Dress for Success
Have you heard the saying "Appearance is everything"? It may sound wired, but in fact, it is a key component that makes up most of the first impression one gives others in any society of business setting. Dress for success is a popular adage based on sound advice that works! There are many reasons why stylists should Dress for Success. When you Dress for Success, you're more likely to achieve success than if you don't. When you are invited for an interview, you treat it as a solemn errand and dress accordingly. Yet for everyday work that+ollows, you have to stay concentrated and keep the impression that you earned by speckle's appearance.
By following these simple steps, you will find a job in the beauty business, but you will become a successful stylist.