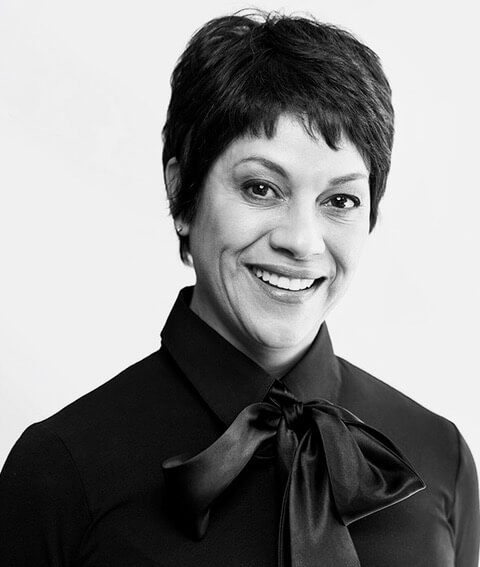 Lupe Voss
Meet Lupe Voss, she is another industry icon, award-winning hair designer, and creative visionary. This is what she has to say about her journey:
Q: What are some of your biggest accomplishments?
I would consider a few of my biggest accomplishments to be; Finding something I have been enjoying as a craft/job for the last 38 years. Owning a salon for 32 years. Creating Hair Color Magic education and mentoring fourteen amazing trainers. Creating beautiful images and marrying the most amazing man.
Q: Who influenced you the most when learning your craft?
The person who influenced me in my craft is Annie Humphries. From standards to professionalism, Annie has always been my benchmark. An innovative colorist in our industry, she has always inspired me to push myself.
Q: Where do you draw your inspiration from?
I draw inspiration from different things. In the years of doing hair and working with some amazing people, I am inspired by them. I love to get into discussions of ideas to see where we can take them. For color, I always seem to turn to nature. Mother Nature never fails! For color combinations,
I love to read THE BOOK OF COLOR from Johannes Itten. He was a designer- teacher, writer, and theorist associated with the Bauhaus.
Q: What would you say to new future professionals entering this industry?
To all the future professionals entering this industry, Never Stop Learning. What we do is a craft. A craft that always needs to be revisited. We are only good as our last … (fill in the blank)

I believe that hands-on education is the best way to learn the nuances of our craft.. ideas and theory courses online are fine, however, to hone the craft we need to be in a class.

Last, find someone that inspires you… learn everything they can teach you before taking on a different educator. Most classes are a build of information, and you will get the full picture when you enroll in multiple series of classes.
Q: Where did you attend school or train?
I went to a city college for Cosmetology, Riverside City College in California. Graduated classes of 1981!!!
Q: What was the turning point of your career?
The turning point in my career is when I decided to teach. Teaching has opened so many doors for me. Sharing information is in my heart. I believe we all can do, once we have the tools to do. I decided to close my salon permanently, after 32 years, to focus on teaching. I started teaching a little and more salon. Then it went to 50 -50. In the last few years, it has been mostly teaching and a little of the salon. I saw where my heart is and made the jump to focus on teaching.
Q: What is the best advice you have received?
I have received some great advice in the past. Here are a few pieces;

From Rudy Miles; (me shaking like a leaf while presenting a foil placement on stage)… "Keep your elbows close to your sides (imagine pushing your armpits down towards the ground) while working". This kept my hands from shaking and the foil rattling!

From Ray Civello; "Dress for the job you want, not the job you have".

From Peter Grey; "Always look at your work when you are creating/finished and ask, Does this work represent who I am?" And "When you think you have done your best, do better".

From Manuel Voss; "always be yourself, there is no one that is you".

From my Grams, Lupe Avila; "it is none of your business what others think of you".

From Gerard Scarpaci; "Opportunities are there for you when you are open to them".

From Geno Chapman; "if you are not living, you are dying".

Ricardo Denis: "our fundamentals techniques are our advanced, we have to master them".

Okay… thanks enough. I have great friends that give great advice.
Q: What is your opinion around online video training?
I do believe video training is important for certain learner types. Theory and technical can be shared via video to share ideas. Hands-on is where the nuances live. Where learners who need to see, hear and do excel. There are trainers I've seen able to communicate nuances of the movements we need to master. There are some great videos and some not so great… depending on the trainer's communication and how they can articulate a technical movement.
Q: In a perfect world, how would you like to see the industry grow?
I see our industry growing with continual support from each other.
Q: What is the best technique you have learned?
Oh, there are many. I do both cut and color…

Cut – to blend out color visually, pinch the top layer of hair, and slide the blade of the scissor from under to the tip of the hair. A beautiful melt. (Thank you, Peter Gray) This vs. point cutting.

Color – backcomb/tipping for seamless lived-in color. This is a technique I use when Hair Painting or Balayage techniques would not give me enough lift.
Q: What is the secret to your success?
I don't think about success, which just profoundly hit me, Daily, I focus on doing the best I can in everything I do and enjoying what I do. I follow the advice/influences that align with my character/integrity and go for what's in my heart.