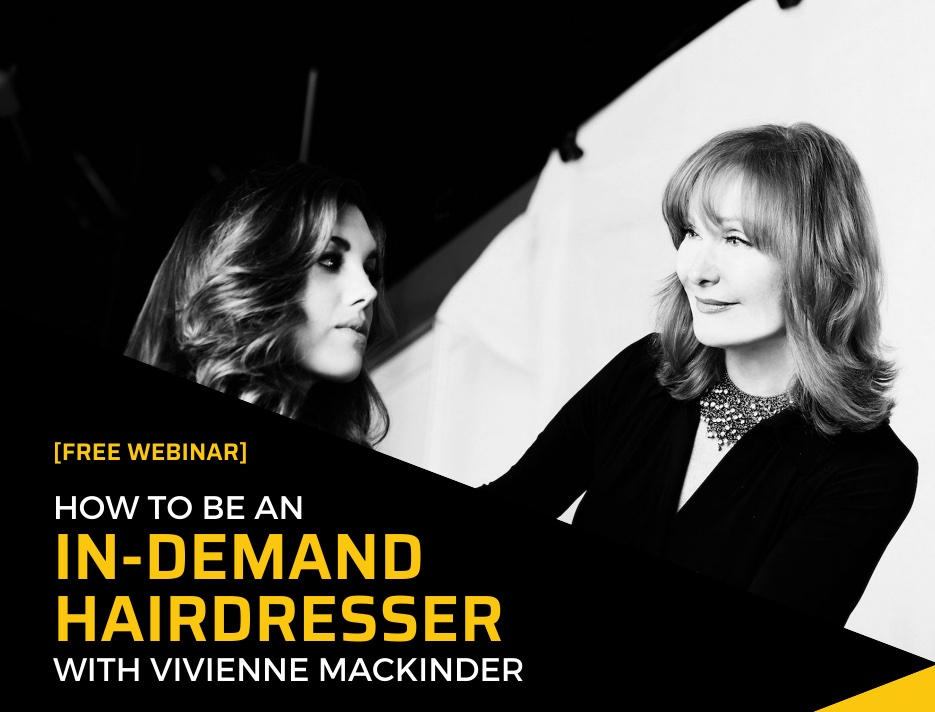 How To Be An In-Demand Hairdresser (With Vivienne Mackinder)
Are you a salon owner, educator, or independent hairdresser?          
You may be surprised to learn that 80% of new hairdressers will quit the beauty industry within 2 years of starting their careers. That is a sobering statistic!
Are you struggling to find advanced online education that gets you engaged, motivated, and inspired?
Are you struggling to find structured and guided education that you can utilize at work?
Are you overwhelmed by "instant" education online?
Are you watching educational videos but finding it hard to translate what you have learned into consistent education?
Are you longing to become the highly trained, highly efficient, successful hairdresser you've always aspired to be?
Are you tired of investing money in education that does not enhance your ability to teach/learn?
If you are struggling, feeling overwhelmed, uninspired, or frustrated, then my FREE webinar How to Be an In-Demand Hairdresser is just what you need to get you motivated!
In recent history, the world of hairdressing has become conditioned to receiving education in short snippets online and from social media. We then realize that the sped-up version of a short tutorial left out a lot of important information. You feel disheartened, frustrated, and incompetent.
I'll tell you why this is happening.
As owners, students, and stylists, it is next to impossible to find the formal education needed to train and BE trained.
You may be more focused on the technical aspect, but mentorship and guidance may be lacking.
Whether you are an experienced stylist, own your salon, or are fresh out of beauty school, wherever you are in your career, finding continuing education can prove to be a huge challenge and can hold you back from the financial rewards of building your business.
Most hairdressers quit because they were never properly trained. This is not a criticism. It is a fact.
To be successful, you need to build a strong foundation quickly.
This begins by building a strong client base with solid haircutting and finishing skills.
But you also need to learn equally solid soft skills such as designing to face shape, body type, lifestyle, and fashion. You need to understand the importance of conducting a killer consultation.
In my FREE webinar, How to Be an In-Demand Hairdresser, I will share how I have trained people from boutique salon staff to award-winning hairdressers.
I teach you the importance of mentorship and the steps you can take to develop a lasting system of education that will set you up for success.
You will learn how my tried-and-true method of 5-star education has been the secret to enduring success for owners, students, and stylists alike.
This FREE webinar focuses on:
How to build a lasting and loyal clientele
How to rapidly get fully booked
The importance of learning "soft skills" such as a 5-star consultation, designing to personality, lifestyle, fashion sese, and sensuality
The importance of designing to face shape
The importance of learning the three methods of cutting hair
The importance of teaching strong styling and finishing skills
How to build a 6-figure business
Whether you have just graduated, own your own salon, or have been in the business for two or twenty years, this FREE webinar is for you!
The decision to further your education is an enormous responsibility to yourself, your staff, your students, and/or your salon!
I have over forty years of trial and error under my belt. Let me take away some of the stress and heartache by showing you my tried-and-true principles of education.
Join me on the road to mastery.
Wouldn't it be ideal to have someone do the heavy lifting when it comes to consistent and lasting education?
Watch my FREE webinar, How to Be an In-Demand Hairdresser, and get a FREE copy of my eBook. Don't delay, take your career to the next level today!
Follow the link below:
www.viviennemackinder.com/webinar