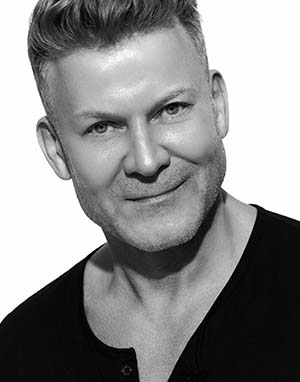 Damien Carney – Celebrity stylist, Industry icon, and Award-winning hair designer
Meet Damien Carney, he is a celebrity stylist, Industry icon, award-winning hair designer, and creative visionary. This is what he has to say about his journey:
Q: What are some of your biggest accomplishments?
I've traveled the world conducting, seminars, shows, etc. Photography is a huge serious hobby of mine with hair lol ! I've learned so much about my work and vision through the camera lens. Being a free independent hair stylist. It allows me to work on some great projects and allows me creative freedom. I love my independence. I've helped other hair dressers develop their editorial, photographic work, for competitions, etc. Creating my own view of hair. Being me and constantly growing and developing my self. Celebrities, fashion shows, editorials fashion stories. TV appearances.
Q: Who influenced you the most when learning your craft?
Trevor Sorbie London. I retrained at the age of 26, I honed in on all my hair skills with Trevor Sorbie, Convent Garden, London. He changed my hair world of how, I approached hair and how I see hair today. Quality, control, vision, flair, technique, creativity, forward thinking, are just a few words, skills I learned at Trevor Sorbie. Forever Grateful.
Q: Where do you draw your inspiration from?
Not one source. Fashion, hair history, films, models, street fashion, people inspire me. the person sitting in the chair at the salon or at a shoot or seminar.I like to get to know and understand the person I'm working on. I look at their hair, face shape, body shape, sense of style and how they want to look and or feel.Inspiration for me is not a button I turn off and on. I have to be in the mood and in the right place and environment to be inspired.Simple things can inspire me, complex or complicated things can inspire me. I've learned to read, trust, my instincts and signals when I'm being inspired. I've learned to go with the flow at that moment in time. Some times I look back and think what on earth was I thinking, and there are times when I think I've created some thing unique. I never force my self to get inspired, when it happens it happens, then I run with it. I don't like to over think my inspiration, for me thats too contrived and too calculated.
Q: What would you say to new future professionals entering this industry?
I've always believed in on going education. Its the only way to stay fresh, modern, current and relevant. We have to learn to walk before we can run. And that means studying your foundational skills in cutting, coloring, styling, etc. The classic techniques are the building blocks of creativity. We cannot grow or create if we don't understand technique and creativity and how to apply. One has to start at the bottom and continually build and progress as we learn. We live in a world where things move so quickly, that we forget about focus, vision and quality to our work. Stay focused, be patient. Remember what you put in is what you will get out of your career. Don't cut corners, put your heart and soul in to everything you do and just do your best and everything else will fall into place. Keep In mind your unique, capitalize on your personality, professionalism and commitment to the industry. Practice, practice, practice and you will achieve perfection. Remember your in control of your career, your the driver, so hit the gas and enjoy the journey.
Q: Where did you attend school or train?
I trained in the UK, London. I attended beauty school full time for 2 years. And then worked in a few salons that were departmentalized. I specialized in cutting and styling. One evening, I attended an educational event, It was called Wella, Vogue ( UK Vogue magazine) a photographic competition, like the photographic competitions of today. I didn't enter the competition, I was attending the presentation that evening with some of the industries great hair icons, the icons did short mini presentations with live models. One of them was Trevor Sorbie, London. His presentation blew me away. I had never seen hair the way Trevor did hair. He was unique and a master at his craft. Trevor  had such a huge impact. That I plucked up the courage to apply for a stylist job at the age of 26. I got an interview and had to cut 3 models for Trevor to check. I was a nervous wreck. Long story short. I had to do some retraining with Trevor to take my work to a higher level. Understand Trevor's philosophy, vision and his cutting methods. My work was not up to Trevor's standards. After 3 months of retraining I became a teacher at Trevor's academy of hair. I conducted seminars and traveled doing shows. With Trevor and his creative team. Little did I know that an  educational hair event one evening out of my life, changed my life, my career and has impacted how I do and see hair today.
I'm truly grateful for the amazing opportunity at Trevor Sorbie.  You never know where life takes you. opportunities and things can just happen out of the blue. but!  you must be open and perceptive to this magical, amazing, special moments and not let them slip away.        
Q: What was the turning point of your career?
Working  with and for "Trevor Sorbie" in Covent Garden, London. I was an. instructor at The Trevor Sorbie Academy Of Hair. I learned so much about my self, my work and where I wanted my career to go. It was intense and a lot of hard work. But I wouldn't have it any other way. We have to stand out from the crowd, we have to focus on high quality work that is technically and creatively well balanced. I learned to up my game and my skills at my time at Trevor Sorbie. Trevor changed my hair world for the better. 
Q: What is the best advice you have received?
Stay focused, learn from the best, surround your self with the best. Go to work with positive vibes and energy, don't get caught up with the wrong crowd at work or in your personal life. Keep negativity far away at all times. Contribute to your work place and your career. What you put in is what you will get back. Be nice to people. Have a "Don't knock it until you've tried it" philosophy. Be open minded. Learn the right way to do some thing. Learn why your doing, what your doing. Know when you've failed and know when you've achieved excellence in your work. Give your self realistic goals. You can be anything you want to be, you can go where ever you want to be. You control your destination. Most important. Love, love what you do. Light up a room. Practice, practice your skills always. continue your education, and stay current. We live in a world where things move and change quickly if we don't pay attention or embrace these changes, we simply get left behind and grow old with our industry.
Q: What is your opinion around online video training?
I think videos are great. We learn by seeing, doing, repeating, etc. Online video is "one" way of learning. Its not the "only" way. For me, I learn best when I see it in front of me, live, in the moment with human interaction, mentorship, and guidance. Online can be a good way to see some thing you want to learn and study at your own pace and in your own time you can pause and pick it up again. You can watch, repeat, repeat. It can be a double edge knife. There's great videos and not so great videos. Just make sure you're watching the great ones. The ultimate training situation is "live" live demonstrations and live hands on. Hands on with a demo is where we learn all the tips and tricks that can sometimes get lost on a video. 
Q: In a perfect world, how would you like to see the industry grow?
Focus more on quality. Quality education. Push to do better for the good of the industry. Loyalty is so important, be loyal to your boss, your clients, your manufacturers, your team mates. We are living in a world where everything spins so quickly. That we some times just need to slow down a bit and look around and get back on track. Take time to give a little bit of love, a hug and encouragement. Especially to the younger generation entering our industry. We must always continually strive to better our industry. Quality, professionalism, dedication, loyalty, passion, creativity and an open mind is the only way to grow any industry.
Q: What is the best technique you have learned?
Hair cutting – "Graduation" it works on many hair textures and lengths. Graduation can breath life in to dull ordinary hair. It can lift and open the positive features of the face shape. Graduation can be adapted to suit most face shapes, hair textures, client life styles, ethnicity and more. It constantly evolving forward to keep it modern. I like all techniques, layering, graduation, one length, technical cutting, free hand cutting. For me it's about using the right technique to suit the person your working on. If we apply our "one" favorite technique, method on everyone it won't work. I'll mix up my techniques constantly. I always want my client to have the wow factor, and most important that my client feels, rejuvenated refreshed and beautiful. I'm using a specific technique for a specific result or look.
Q: What is the secret to your success?
I don't know I have a secret to my success. I find it hard to sometimes measure my own success. But I do believe that positive energy attracts positive energy. I always want to start and finish my day with positive vibes, even if its been a rough day ! I always want to give it my best shot, even if I fail. I know in my heart I did the best I could in any given situation. I'm not perfect and don't want to be. We all learn by our mistakes. I have no problem with owning up to my mistakes. However, we must learn by our failures or mistakes. Be happy, make people smile, I always remind my self to be "me", not me trying to be some one else. I want my clients and or where ever I be, in a studio or conducting educational seminars shows, world wide. To have a great experience. I've always loved doing hair. When we love what we do, it shows. I've been very fortunate that I've had great mentors, that have guided me through great times and difficult times. Without my mentors I would not be the person I am today. I always remember where I started and I'm never conceded about eating some humble pie. Be open minded, be a team player, help others and do great hair !